During renovations to the main house, we will mostly likely live in the back carriage house. The 2 units in there need some upgrades, but we plan to rent them out to students so we don't want to go overboard with expenses.
Do you remember living like this?
Of all the units (main house and 2 in the carriage house), this bathroom is by far in the best shape. And, it is easy to see the potential here. If the accountant (AKA my husband) allows, this is what I'd do to it:
I'd re-tile the floors in a simple white penny tile design with grey grout.
Photo courtesy of Camila at
High Heeled Foot in the Door
, who swears these tiles are at Home Depot for $2.50 a square foot.
Then I'd make a "No-Sew Pedestal Sink Skirt" a la Jenny at
Little Green Notebook
under which I'd stash a basket for the hairdryer, straightener, etc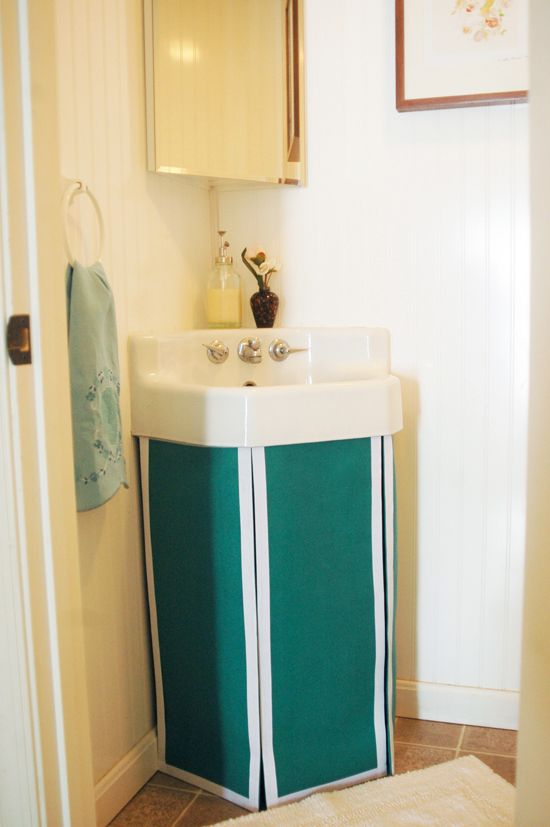 I'd install 2
Ekby Mossby Ikea Shelving
on the wall above the toilet for towel storage
and the
AKURUM wall cabinet
on the adjacent wall to hide toiletries, etc.
Add a few hooks and choose a paint color and we have a livable-yet-doesn't-break-the-bank rental bathroom.
Cost:
$2.50 x 50sf = $125
Fabric for skirt = FREE from my stash
2 shelves = $90
wall cabinet = $44
Paint = $20
Labor = FREE (thanks husband!)
= $279 Total
Hmmmm....now how to paint the rest of the unit (kitchen, living room, bedroom), re-tile the kitchen floor, add a backsplash, raise the kitchen cabinets, AND replace the carpet for less than $500...........
**After my husband read this, he yelled from his office "who is gonna lift the f@%&*ing tub?"....heheheheh. Not me. Doctor's orders :)